#25: Food blues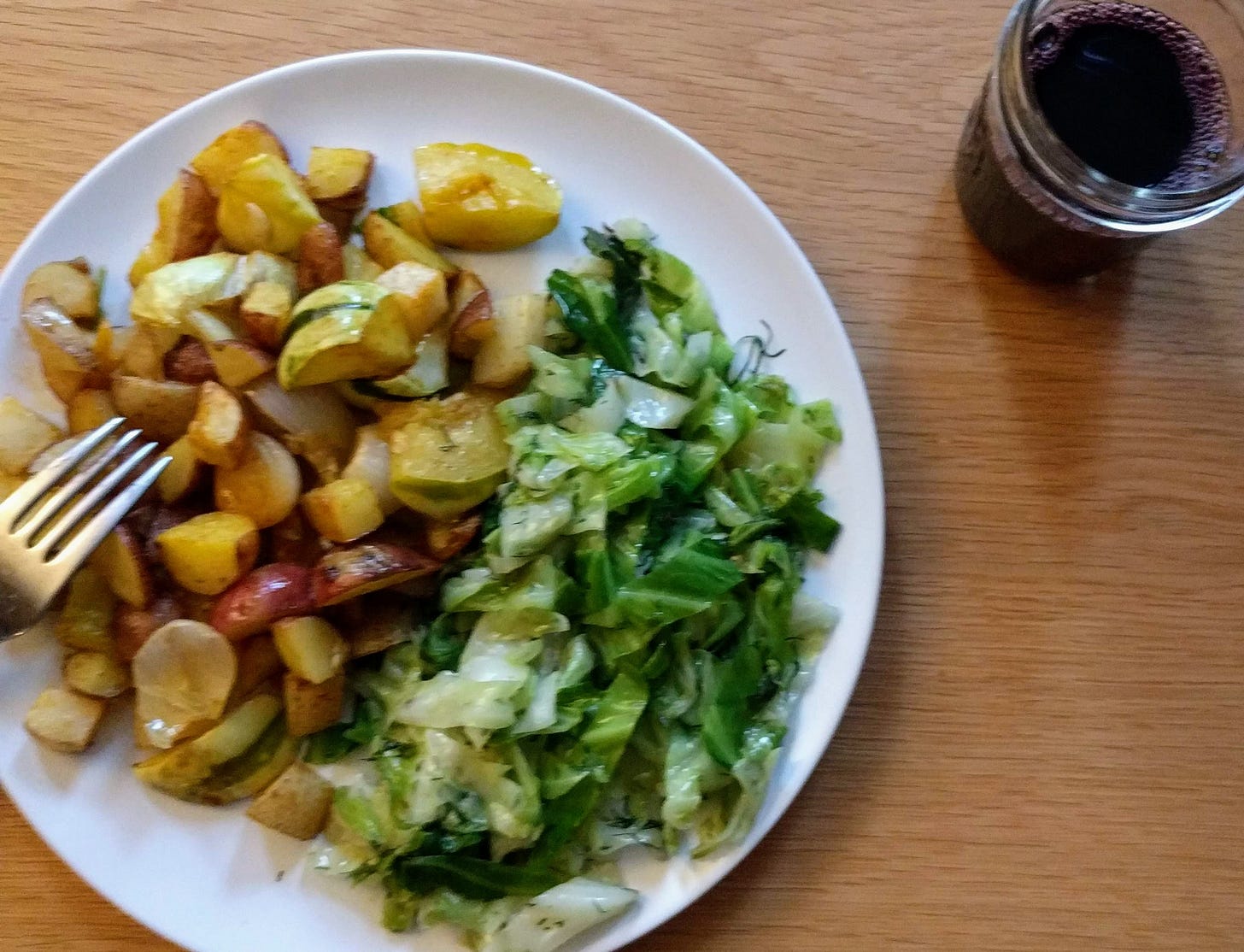 Yet another roast potato and pumpkin with sautéd cabbage.
---
I didn't do anything climbing-related today. Nor do I have any deep insights into my diet, except to say that food is a wonderful, God-given joy to life, and we should be fucking grateful for how much choice we have available to us. You, dear reader, don't appreciate how much choice you have. You take it for granted. Trust me on this.
I'm to the point where if I have to look at another pumpkin I just may vomit. I am literally thinking of foregoing dinner tonight because I am more sick of potatoes, cabbage, and pumpkin than I am hungry. And I'm pretty damn hungry.
The other night I tried to get creative by frying some apple slices in coconut oil, with nutmeg and cinnamon on them. My mom said it would taste like pie. She lied. It tasted like some mushy bland apple. Something about the cooking process seemed to sap the apples of whatever satisfying sweetness they had.
Every day lately I've questioned what it is exactly I'm trying to prove here, only eating food from my own property. Nothing, really. I started doing it because I'm curious if I could, and what would happen if I did, and then I did it long enough that I realized I could do it, so I might as well finish. Actually when I write that out, the whole thing seems pretty frivolous.
But then, the other day my mom remarked how much of an example I was setting. Like, what now? was my initial thought. My feeling had been that basically I was inconveniencing everyone, both by laying claim to 90% of what's coming out of the garden and by withdrawing from our dinner cooking schedule. But then she pointed out that my kiddo was so conscientiously pulling food from the garden and setting it aside from me, and watching me do this pretty hard thing every day. And that merely by setting such a difficult goal where I suffer and struggle yet stick to it and follow through, that in itself was the example.
I guess. But I also would really, really like some cheese and bacon. And the longer I do this, the longer I start to think how ridiculous it is that I don't just cut myself a slice of cheddar, toast a bagel, and lather on some cream cheese and lox (and follow that with a BLT and a beer, and then maybe some chocolate chip cookies and a vodka).
I know that's not what I'm supposed to be saying here. I'm supposed to be subtly urging my readers to get on board with my struggle, my story. I'm supposed to make you root for me. The last thing I should be suggesting here is that my journey is really pointless, if you look at it close.
Ok, the lesson here dear reader is this: the things we do have meaning because we invent said meaning. That's it.
Or heck. Maybe I've just got the food blues.