#27: Ode to the potato
Plus: my "use case" for why I did what I did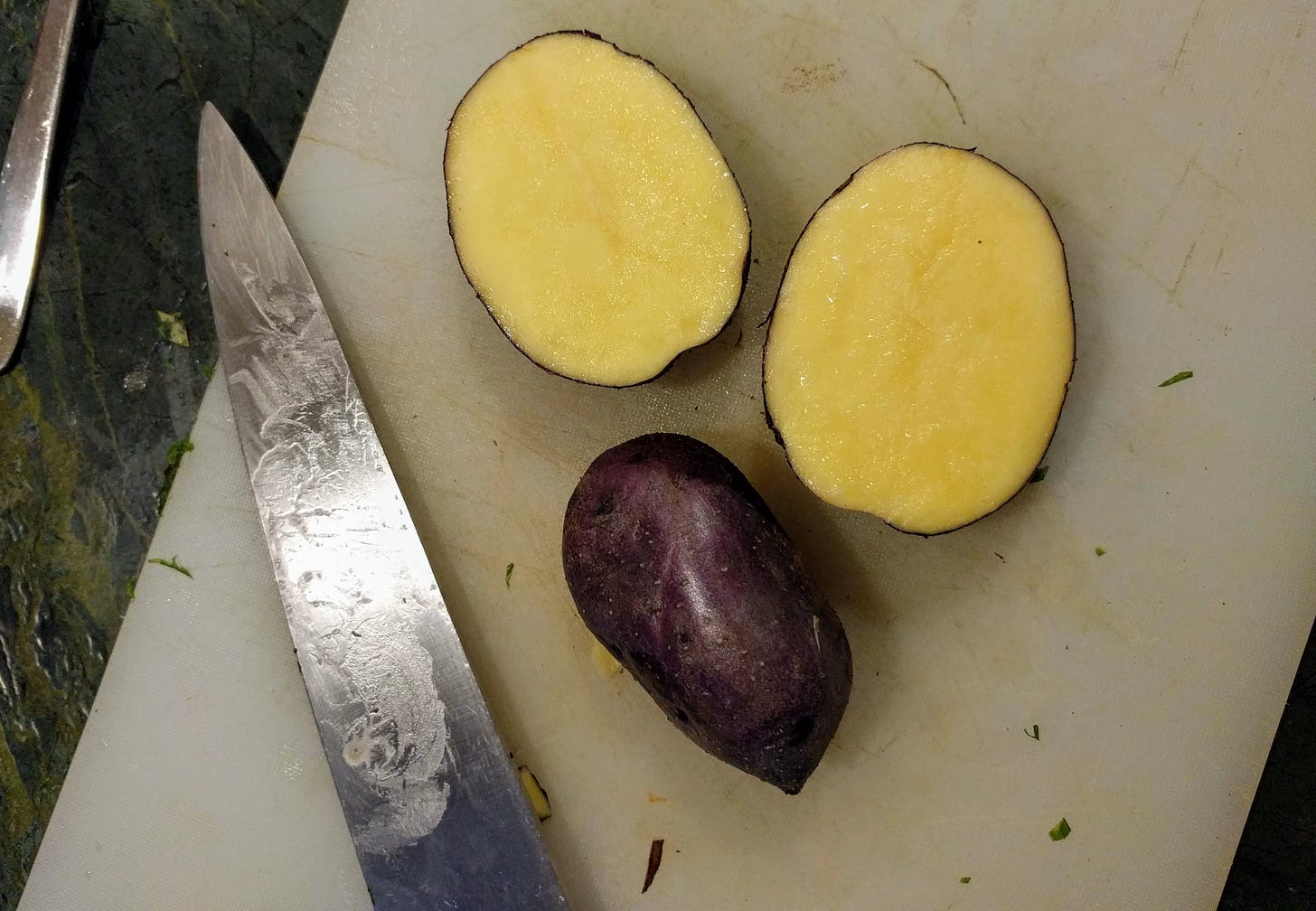 Today I drove for 13 hours, returning my kiddo to his mom in Maryland. What got me through this road trip? Southwest through New Hampshire, down Route 91 in Vermont, through Springfield, Hartford, and New York, on to Philadelphia, where I met her, dropped him off, said my goodbyes, and turned right around again?
The potato got me through it.
In fact, the potato has gotten me through this whole month. I decided to try eating only food from my own property to see if it could be done, but I also had a real "use case" in mind: basically I wanted to simulate a sudden lockdown, either voluntary or involuntary.
That kind of scenario would have seemed far-fetched a year ago. But now, well, we are where we are. For one, in March or April, the administration could have issued an actual nationwide stay-at-home order, forbidding anyone to leave their house for two weeks (actually, had they paired that with a plan to deliver food to everyone, possibly this country could have killed COVID-19 in its tracks).
Or, consider that one day we could face a new pandemic that is so dangerous, so contagious, that we actually don't want to leave our house for any reason, even to get food. The use case was to contemplate such a scenario — either of which, if they were to happen, would happen most unexpectedly. In other words: with little to no warning.
Thus, my lack of preparation. I didn't think everything through or plan ahead on purpose, in keeping with the use case I had in mind. So no, I didn't go get poultry and raise it in preparation for the month of August. I didn't even think too hard about what was in the garden (basically only veggies) or when they would be harvested. I didn't think about whether what was on my property was a balanced diet (it's really not), or whether I would slowly whither away.
I did, however, know that there were potatoes. And if Matt Damon can survive on potatoes on Mars for four years, I could probably survive for one month.
The history of the potato is, as more than one historian has pointed out, the history of the rise and fall of nations. The arrival of the potato in Europe, brought from South America by the Spanish, is said to have all but ended famines. "By feeding rapidly growing populations," wrote historian William H. McNeill, the potato "permitted a handful of European nations to assert dominion over most of the world between 1750 and 1950."
And of course the most famous European famine we all know about only happened in Ireland because a disease killed the potato harvest there. Between 1845 to 1849 over one and a half million Irish departed their homeland for either North America or Australia. Because potatoes.
And indeed, if I hadn't had potatoes growing in my back yard, my body would now be in starvation mode. Actually, I probably would have given up on the whole effort a while ago.
But the potato keeps me going. I grate it together with zucchini in the morning and fry it in oil, salt, and chile powder. I roast it at night. I chop it and sauté it with onion. Once I added it to pumpkin soup. Perhaps the only method I haven't tried yet is mashed potato, though — the month isn't over yet.
I can give the potato crunch, or keep it soft. I can add nearly any spice, allowing me to pretend my diet is more varied than it is. Last night I roasted a huge batch of potatoes, and took half of them with me in the car today. And they keep coming out of the ground in amounts bounteous enough to allay the fears of my girlfriend and my mom — at least you won't starve, they say.
So: thank you, dear potato. Here's to you.