#29: A lingering question
The pandemic and the Trump administration have changed my relationship to government, as a citizen and as a climber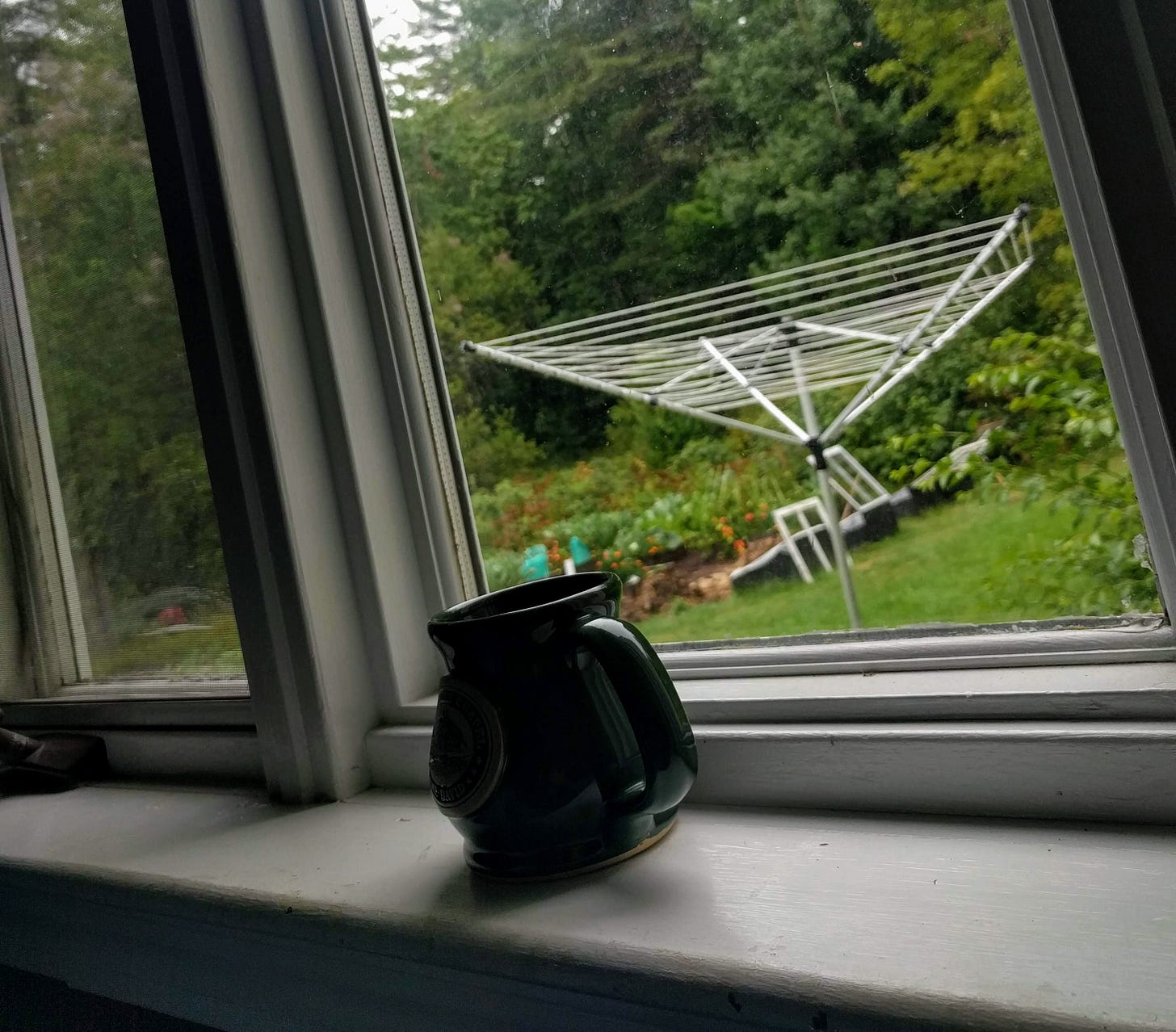 The view from our reading nook today: rain, rumination, and black tea.
---
When the pandemic hit, they closed the climbing area. I had just come down from Waimea with the kids. It was one of the first, beautiful Spring days of the season. As we came down from the trail into the second parking lot, the small one that heads up to Rumney's best crags, I saw two U.S. Forest Service pick-up trucks parked in the lot.
That was back when I felt some ownership of the Rumney crags. I was a new resident, I paid my property taxes, and I was ready to be an active member of the community, as they say. So I asked the guy sitting at the driver's side of one of the pick-up trucks what they were up to that fine day. "Here to close down the crags," he replied.
Back then, in April, with the science of transmission still very uncertain and all cautionary measures being taken, the closure kind of made sense. But then, bit by bit, we learned that transmission outside was rare. That fomites weren't really as big an issue as we thought. That almost all incidence of major spreading took place inside, in poorly ventilated spaces with big crowds. That universal masks were the most effective public health measure we could take.
And, everything in New Hampshire began to re-open — everything except the Rumney climbing crags.
I've already recounted this story on What Really Matters, with a follow-up a few months later. You should read those. And, the crags are open now, of course — the unknown powers that be decided to re-open them mid-July, even as a new wave of infections was spreading throughout the country.
But though I can go climb whenever I want now, I do have a lingering question. It's been bothering me for a few weeks, and with the rain outside and a strange, pinched nerve injury in my shoulder preventing me from manual labor out in the garage, I figured I'd put the question down in words here, as best I can.
The question is something like this: considering what we've learned, both from the pandemic and from living through the Trump administration, how then, as climbers, should we be thinking about — or perhaps revising — our relationship to government?
The more I think about it, the more I've started to unpack the precise scars of the Trump administration. And, no doubt because of the upcoming election, I've begun to contemplate what priors about my relationship to government, state, local, and national, I might be revising in the long-term.
Not just as a climber, but as an American, as a human.
For starters: I used to think that government, for all its flaws, had mostly good intent, and was staffed by mostly good people trying to do right by the public. But that's clearly no longer the case. I used to think institutions like the CDC and the FDA were basically good institutions, with sound incentives, governed by expert opinion. Beset by inevitable bureaucracy and occasionally making bad judgements, maybe, but basically trustworthy.
But I have lost faith. Like many millions of Americans of various political persuasions over the past few decades.
Take the Forest Service. It used to be that, in order to protect and preserve access to climbing areas, local organizations would buy land and donate or sell it to the Forest Service. That's what the local Rumney Climbers Association did just in February with its Final Frontier acquisition. I know the board members worked long and hard on that transaction. But the land isn't really "protected" if the government agency you sell it to decides to restrict access indefinitely, or turn it over to oil and gas companies for development.
So, I've begun to question the strategy. Not just because of how the Rumney closure was handled, but because I've seen that same story play out elsewhere throughout the country. Intransigent Forest Service officials, often Trump-appointed, who really could care less about climbing, disregarding community access issues for a variety of reasons, none of them good.
Thus my lingering question: what is my relationship to government, as an individual, a climber, a citizen? And for climbers: is this strategy of giving or selling land to the Forest Service still wise, considering what we've all just been through?
These are questions I think all climbers should be considering right now.