#24: Humility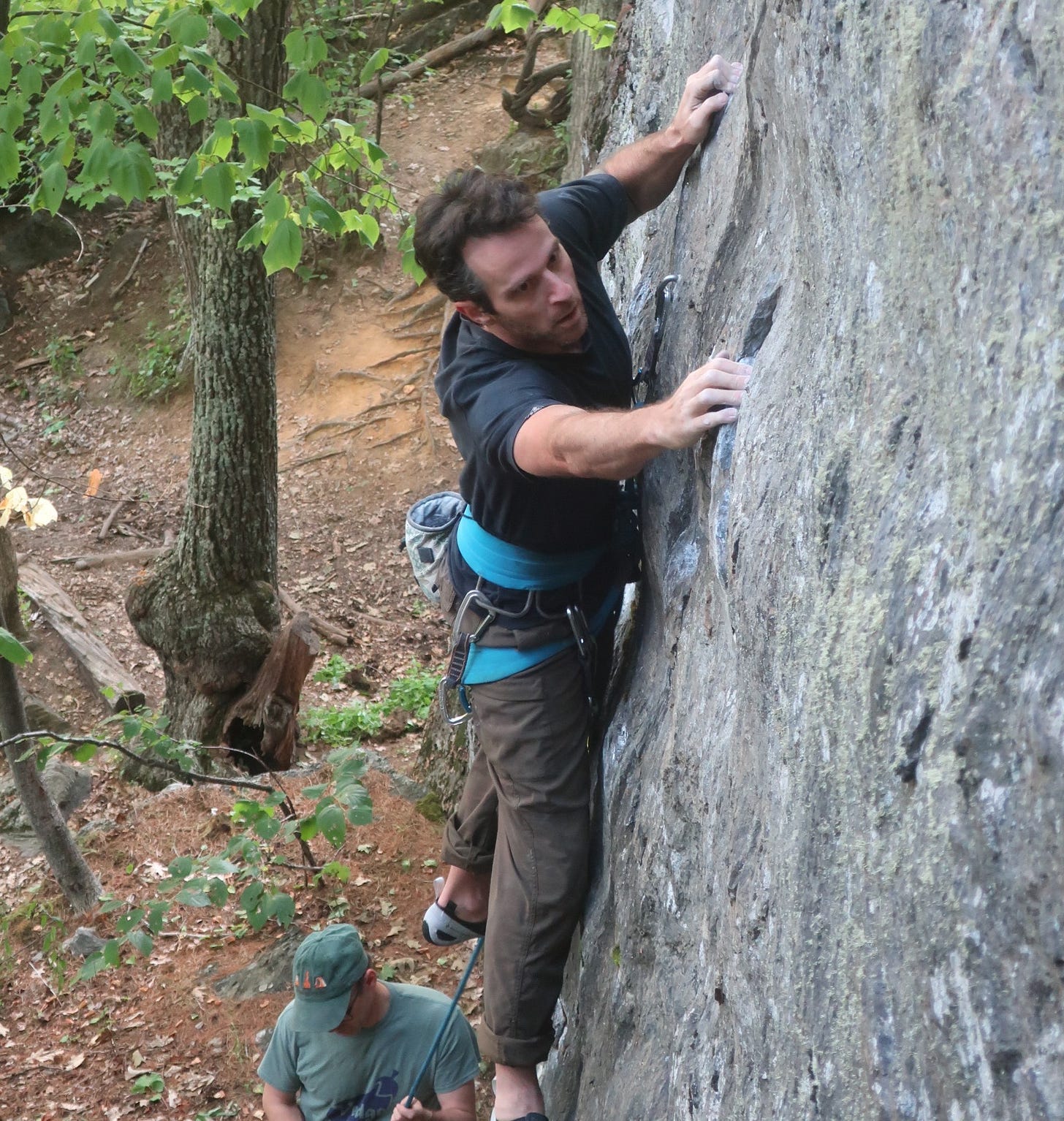 Captain Fingers, 11c. A sustained crimp fest.
---
I'm typing this with fingertips that feel shredded and tendons that feel stiff, like my brain doesn't quite register full control over which keys on the keyboard are getting hit. I'm having to reach over with my pinky and tap the Delete key more than usual.
Nor do I really want to be writing this — August is feeling oh so long — but I suppose this post was inevitable, climbing being what it is.
Today I went back to Captain Fingers, 11c, thinking I might work it a bit and send it in preparation for a return to Flesh for Lulu. My 12a project has had the feeling of inevitability the past few days, like I will do it and it's only a matter of time. Yesterday I wrote that I only needed to pick a send date, as if sending it were a foregone conclusion.
Well, today I ate the proverbial humble pie. And so I have to write the humility post. About how climbing makes you humble and all that shit. Because it does. Inevitably, it always will.
Anyway, my plan was to work on Captain Fingers. It's a sustained, crimpy, five-bolt face climb that I thought would be good preparation for a send attempt on Flesh, maybe this Wednesday. The first time I tried it, with Thomas belaying, I worked out the sequencing and took a big whipper at the anchors. But still I felt confident and capable going up, as if I just needed one or two more attempts for the clean send.
So today my partner and I went over there late afternoon. I stick clipped the first bolt, and reached up for a right-hand side pull. Step, then to the first hard crimp with my left hand. And after that I fell. And fell again. And again.
This didn't happen five days ago. I blamed the weather. It was eighty-five and humid, whereas five days ago it had been probably 65, and less humid. I was sweating, the holds felt slimy, and my feet weren't sticking like they were before.
So it went the whole route. Holds that I had moved through relatively smoothly earlier now felt labored and confusing. The beta was stumping me. I had to hang and try and try something else. I got a little frustrated with myself. When I got to the anchors, I clipped a draw and then grabbed it to make the final clip — I cheated. It was just that kind of a go.
It's not like this is the first time this has ever happened. Everyone who climbs for any length soon learns that some days everything feels amazing, and other days you get your ass kicked. Some days you climb with confidence, pushing upward into moves fully in the moment, laser-focused on footwork and feeling strong, and other days everything that once seemed easy now feels wrong and perplexing and just too damn hard.
And so it was for me today. I may have gotten the workout I needed. After the first attempt I rested a bit and did another, only slightly less painful. But maybe what I really needed today wasn't the workout: it was the reminder that sending 12a isn't at all inevitable. Maybe I needed the reminder to walk, and climb, humbly.
Seven more days.