#30: 🧗‍♂️ Fifth attempt: sent it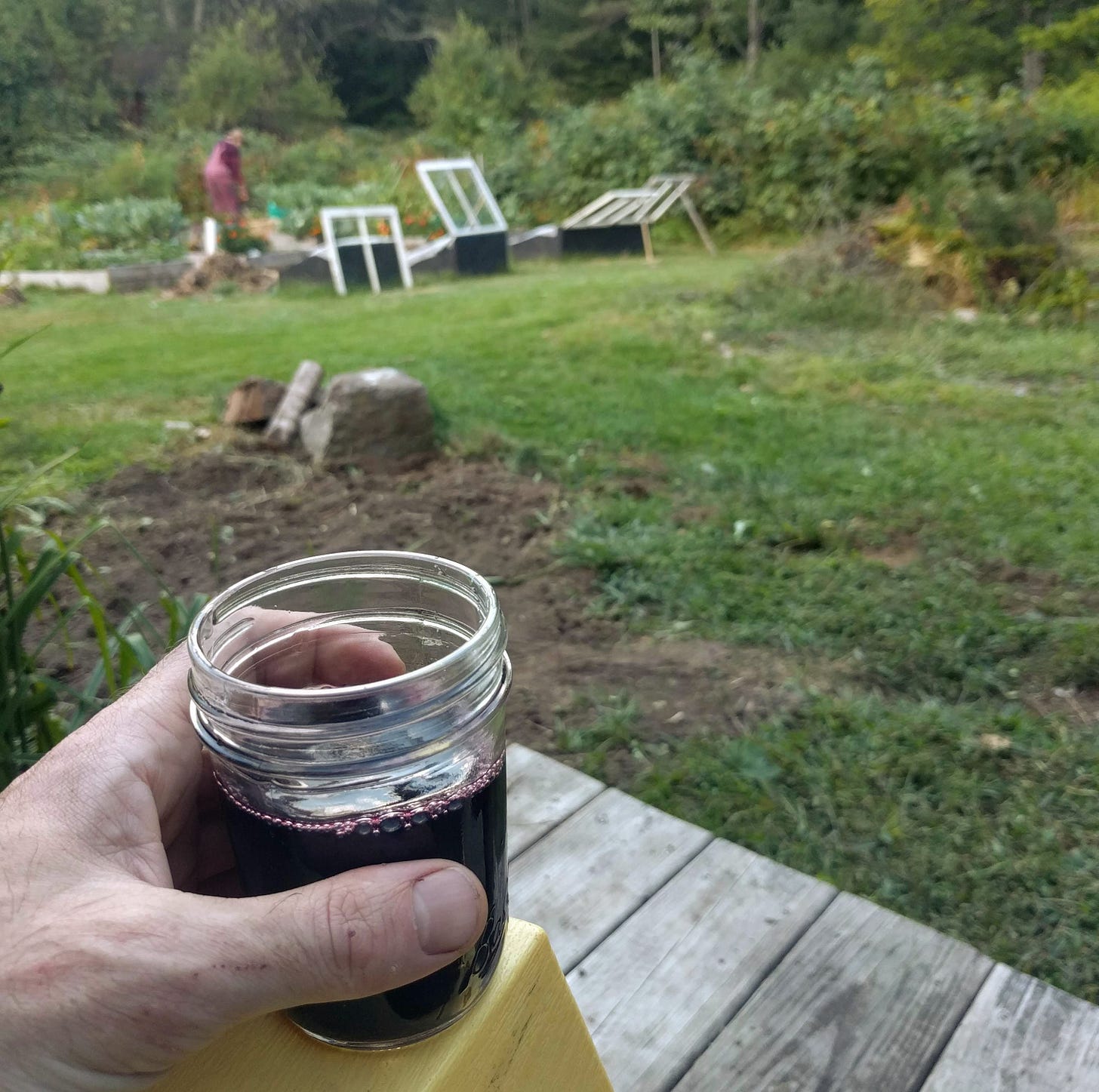 My victory drink. I don't have any pics or videos of the send — just friends who watched. But more thoughts on that tomorrow.
---
Flesh for Lulu went down today. It was my first ever 5.12, and it was glorious. I did it clean, in good style, on my second try of the day. And yet, for a solid half hour, I seriously wondered whether I was capable of it, either because of some mental hang-up, or simply because I didn't have the endurance.
Such are the thoughts that ran through my head as I stared up at the climb today. Maybe I'm just not good enough.
I'd rested for two days through this odd nerve injury, and this afternoon I was ready to get out there and try. No use running this thing down to the wire by waiting until tomorrow, although always in the back of my mind was that out: if I didn't do it today, I still had one more day until August was over.
When we got there, I had to wait in line for the climb. It's Sunday, after all, the weekend, and for the first time this season my girlfriend and I pulled in to a completely full parking lot. I half made up a space in front of a picnic table by the Forest Service sign, we grabbed our stuff from the back of the car and headed for the wall.
Jess and Scott were also there — Scott projecting the climb next door, a 12d mega-classic called Hope for Movement. In fact, he and I seemed to be stuck in the same place: one hanging it. And for my part, it was beginning to psych me out.
After all, I'd done the lower crux move on day two. On day three of trying, I one-hung it — twice, and it seemed the end was near, a foregone conclusion even. But then I drove the 13 hours, and developed this nerve thing, and when I went out for a fourth day of trying, I one-hung it again, falling on the last move, again. I was frustrated.
Today, I had butterflies in my stomach. I could feel the clock ticking down. I put in my contacts as I got ready to head out, and I botched one of them and had to re-do it. Then I suddenly developed a cramp in my stomach, even though I hadn't done anything all day. When I got to the crag, I felt a little cold. And there was a bigger crowd there than I would've preferred.
Basically, I was already psyching myself right out of a send.
On the first go, the same thing happened as on the go from two days earlier: I fell throwing for the final hold. Out of minor sloppiness, born out of pump, born out of… now, as I sat resting up for another try, all I could think about was what was holding me back. Was it that I wasn't in shape enough? My forearms simply not up to the task of pulling all those moves, all together, clean? Or was it that I literally wasn't trying hard enough — wasn't zoned in to that final movement, wasn't truly committed to doing it in my own head?
One can talk one's self in circles preparing for a send attempt. And this was one I'd put a lot of pressure on myself to get done.
Two things stepped in to help me: my meditation practice, and some strategic suggestions from Jess. I didn't exactly meditate while sitting there resting up for a second go, but knowing how to meditate allowed me to calm my mind. Crucially, it allowed me to distinguish between thoughts running away with themselves, and the actual task at hand: climbing.
And second, Jess suggested two things: that I climb faster through the easier bottom section, and that I take a shake at a particular crouch stance just before the final crux move.
And so that's what I did. I basically rushed through the lower part, which is 10c climbing at the most, and gained the no-hands rest ledge just before the first crux.
I took my time, leaned into the rock, and spent some time shaking out and visualizing, calming, shaking out, visualizing. I climbed up left to a flake, mantled on to the second ledge, grabbed the undercling, and clipped the bolt that protects the first crux. This move hadn't been a problem for me since day two, so I knew I just had to do it again like I'd done it before — I reached up for the two crimps, left foot on the nub, up to the left-hand gaston, re-position for the high right foot, and cross over to the jug. Clip, then up to a second set of slightly better jugs.
Calming, visualizing, shaking out.
I took my final big rest, but quicker than before. I moved to the high left foot, pulled up to the series of crimps, re-adjusted feet onto a small ledge, up to a pumpy clipping hold — and here I took the crouch shake as Jess had suggested.
I'd fallen on this move twice before. Big, long falls. But now, I could feel my right forearm had plenty of strength left. All I had to do was be patient with the footwork. I reached out right for the slopey side-pull, shuffled under it, stuck my right foot far out, toe on the ledge, looked down — this is the part I'd done one step too sloppy in the past — and bumped my left foot to the better nub, which extended my reach, and then I threw: a precise throw, with the exact location, shape and depth of the hold I was reaching for in my mind. I grabbed it, I held it, and it was all over.
And I'm not ashamed to say, I let out a primal, MOTHER-FUCKER!!!! yell which I'm sure could be heard on various neighboring cliffs. Down below Jess and Scott let out a yell for me, and even Thomas had just shown up to see the upper section, and I also heard my girlfriend say not too softly, oh thank God.
I clipped the the anchors, I cleaned, and I went home.
Tomorrow is the last day of this whole experiment. And I'll have some final things to say. Lessons learned, final thoughts. Right now, though, it feels good.